Dieser Artikel ist Teil der Serie "Level Up! – 42 Gitarrensoli für ein besseres Sexleben"
Bedeutung
I'm on my way, try if you want, no one can stop me now.
I'm on my way, never give up, i'll climb the mountain straight to the top!
Tonartanalyse
Die Rhythmus-Gitarre spielt folgende Akkorde:

Ganz klassisch wieder Powerchords: Grundton und Quinte.
Der einzige Ton mit Vorzeichen hier ist die Quinte Fis beim H5, deshalb sind wir in G-Dur beziehungsweise in E-Moll.
Da E5 hier der Start- und Endpunkt ist, haben wir ein E-Moll
Auf zum Atom!
Takte 1 bis 4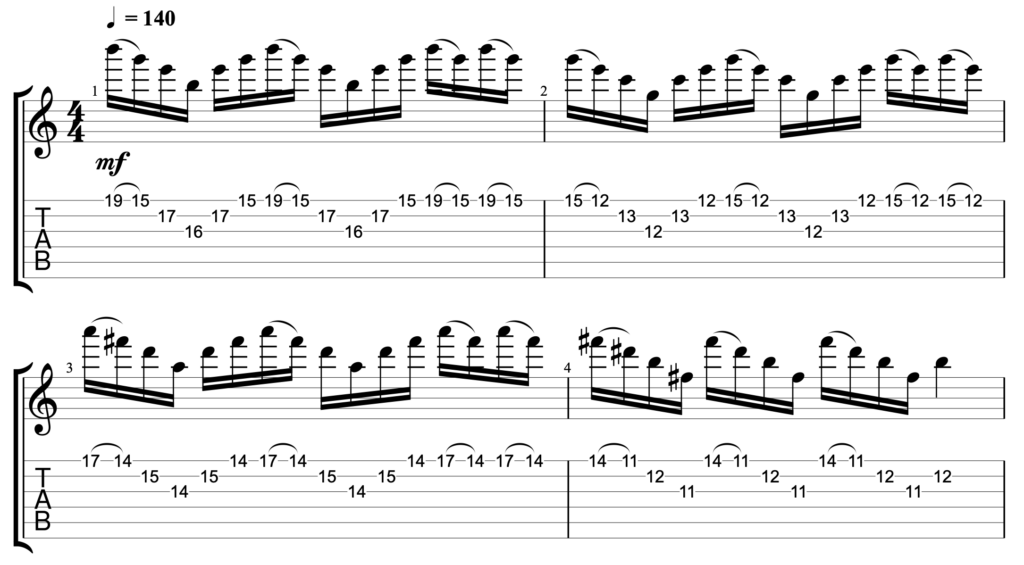 Was passiert hier?
Wir spielen zu den einzelnen Akkorden das passende Arpeggio:
über E5 spielen wir ein E-Moll-Arpeggio, über C5 ein C-Dur-Arpeggio, D-Dur über D5 und H-Dur über H5.
Da wir H-Dur bringen, kommt das Dis dazu, was eigentlich nicht in E-Moll ist. Dadurch entsteht – wer ahnt es? – E harmonisch Moll. Nice!
Die Technik, die wir einsetzen heißt Sweep-Picking.
Wir spielen Gruppen von 6 Noten was mit normalen Sechzehntelnoten gespielt, eine schöne Akzentverschiebung gibt.
Stichwort: Accent Shifting!
Takte 5 bis 8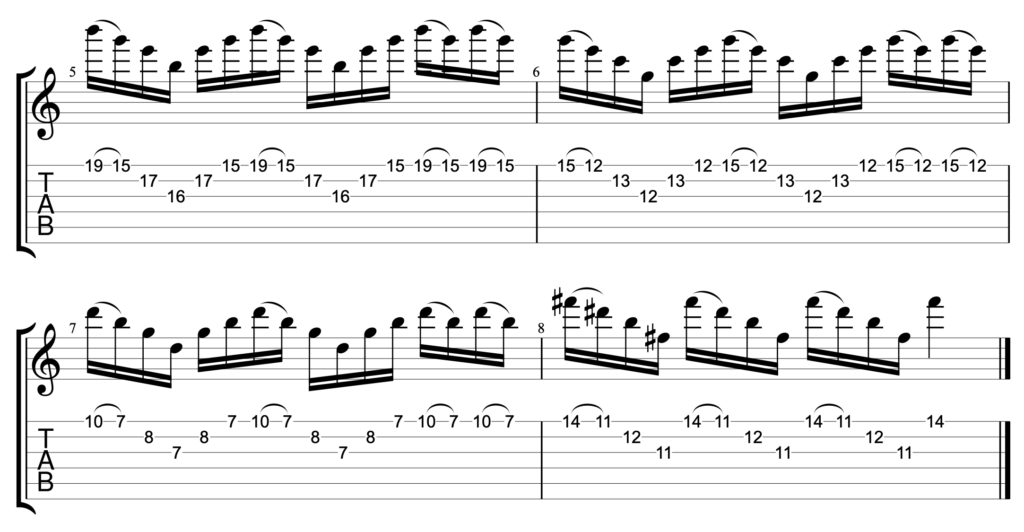 Da Musiker immer faul sind, wiederhole auch ich einfach die Arpeggios aus Takt 1 und 2.
In Takt 7 bringe ich dann ein
G-Dur-Arpeggio über den G5.
Den Abschluss bildet wieder ein Arpeggio in H-Dur, allerdings lande ich diesmal auf der Quinte Fis.
Schon sind wir fertig und können uns wieder an die Sonne raus hocken!
GuitarPro
Download GuitarPro Datei On my Way
Ihr habt noch kein GuitarPro?
Ich würde mich freuen, wenn ihr es über den Amazon oder Thomann-Affiliate-Link kaufen würdet:
Guitar pro Version 8 (Amazon Affiliate)
Guitar Pro Version 8 (Thomann Affiliate)
Nächste Lektion