Dieser Artikel ist Teil der Serie "Level Up! – 42 Gitarrensoli für ein besseres Sexleben"
Bedeutung
Beyond the Veil oder "Hinter dem Schleier" bedeutet, dass oft Kräfte am Werk sind, die wir nicht direkt wahrnehmen können,  die im Hintergrund wirken und sich uns erst sehr spät offenbaren, wenn überhaupt. Die Illuminaten, die Bilderberger, New World Order.
Manchmal ist aber nur Hanlons Rasiermesser am Werk: "Schreibe nicht der Böswilligkeit zu, was durch Dummheit hinreichend erklärbar ist"
Tonartanalyse
Die Akkorde sind ausschließlich Powerchords. Grundton und Quinte. Die nehmen wir mal auseinander:
| Akkord | H5 | E5 | D5 | A5 | G5 | Fis5 |
| --- | --- | --- | --- | --- | --- | --- |
| Quinte | Fis | H | A | E | D | Cis |
Zwei Vorzeichen deuten auf D-Dur bzw. H-Moll hin.
Da der H5 Powerchord deutlich im Fokus steht, gehen wir hier von H-Moll aus.
Takte 1 bis 5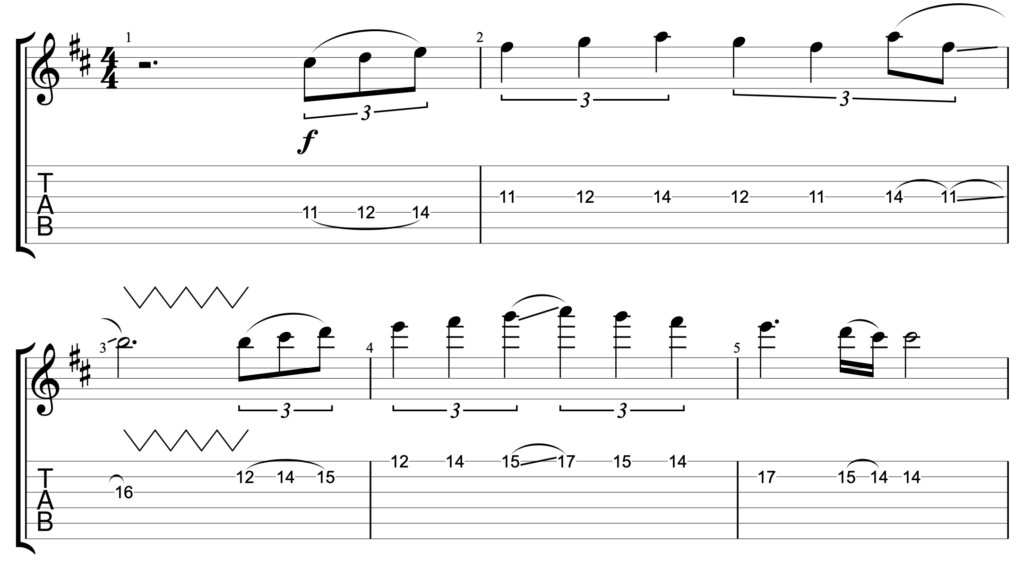 Auftaktig geht es in die erste Runde.
Wie ihr unlängst wisst, erzeugt ihr mit einem Auftakt immer mehr Aufmerksamkeit, als wenn ihr erst auf der 1 des ersten Taktes anfangt. Word!
Unser erstes Motiv besteht hauptsächlich aus Triolen.
Vierteltriolen sind prima, um auch bei hohem Tempo entspannt zu solieren und trotzdem ein interessantes Motiv zu bekommen.
Takte 6 bis 7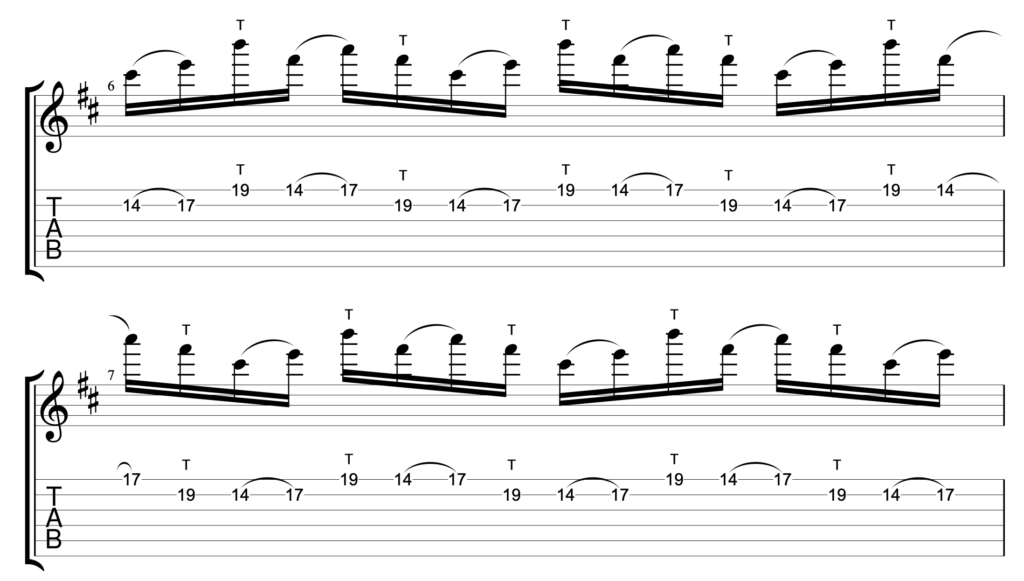 Jetzt fliegt die Kuh! Dieses kleine Tappinglick besteht aus 6 Noten und wird 5 mal wiederholt.
Dadurch entsteht eine coole Akzentverschiebung.
Takte 8 bis 9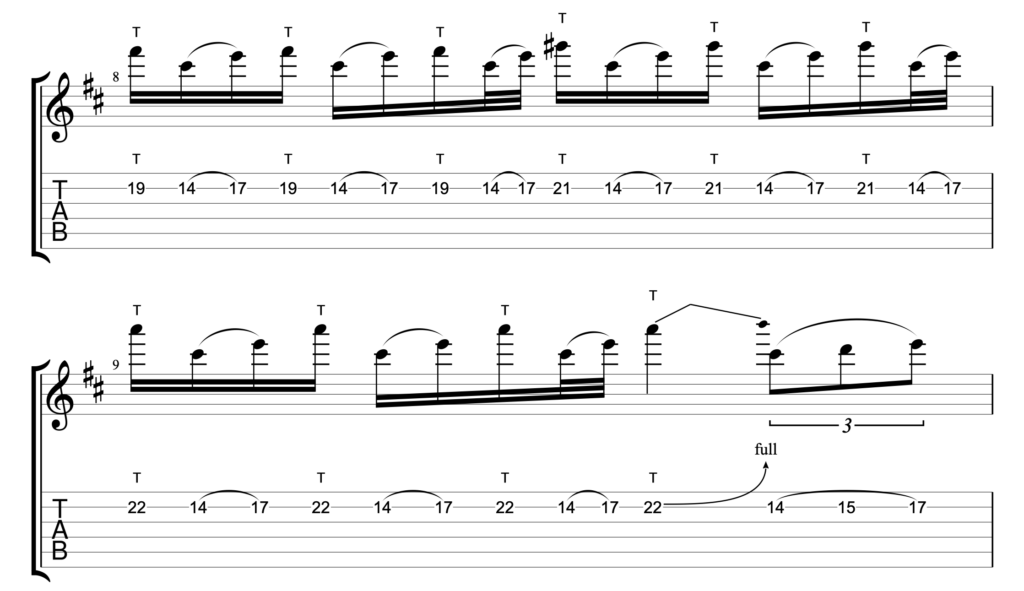 Mit Accent Shifting geht es hier auch gleich weiter. Bei Zählzeit 3 in Takt 9 wartet ein Schmankerl auf uns.
Ein getapptes Bending. wie funktioniert das?
Ihr tappt am 22. Bund und zieht dann sowohl mit dem Tappingfinger
als auch mit der Greifhand die Saite.
Takte 10 bis 13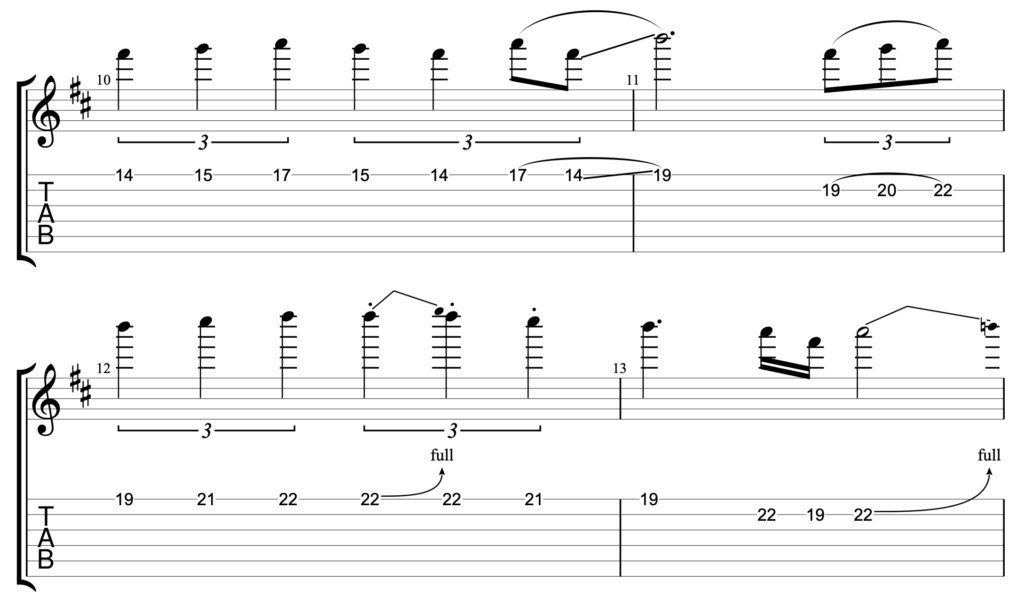 Wir wiederholen das Motiv vom Anfang, jedoch eine Oktave höher.
In Takt 12 bringen noch ein Bending unter und spielen die Triole abwärts staccato, um etwas Abwechslung reinzubringen.
Takte 14 bis 17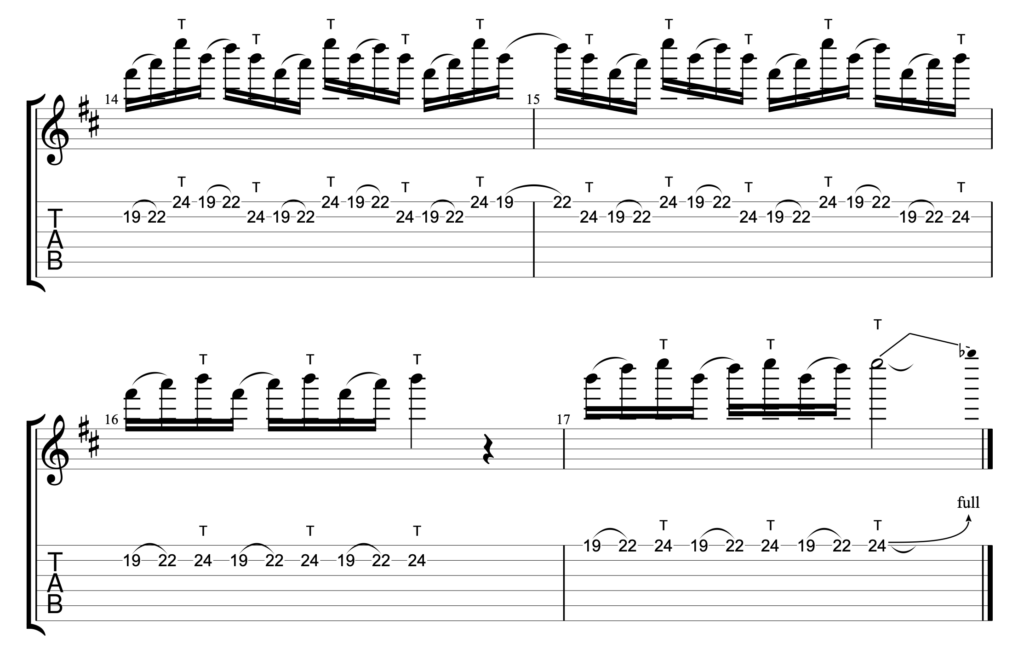 Auch die Tapping-Idee wird wiederholt, allerdings ist der Abschluss etwas vereinfacht, weil das Griffbrett leider schon zu Ende ist. Auch hier zum Schluss ein getapptes Bending.
Full Track
GuitarPro
Download GuitarPro Datei Beyond the Veil
Ihr habt noch kein GuitarPro?
Ich würde mich freuen, wenn ihr es über den Amazon oder Thomann-Affiliate-Link kaufen würdet:
Guitar pro Version 8 (Amazon Affiliate)
Guitar Pro Version 8 (Thomann Affiliate)
Nächste Lektion