Dieser Artikel ist Teil der Serie "Level Up! – 42 Gitarrensoli für ein besseres Sexleben"
Bedeutung
Manchmal muss man sich für die dunkle Seite der Schokolade entscheiden!
Takt 1

Nicht lang snacken, Kopp inn Nacken! Der erste Takt hat es schon in sich: Melodie-Tapping Deluxe.
Deshalb hier mal im einzelnen: Wir nehmen ein stinknormales E-Moll-Arpeggio (grün) in Grundstellung und tappen darüber die Melodie.

Falls euch das jetzt zu schnell geht, hier nochmal die Melodie einzeln:

Eine Besonderheit gibt es noch. Die letzte Note im Takt ist ein Fis anstatt von G. Das hat mechanische Gründe: Das nächste Arpeggio in Takt 2 ist ein C-Dur-Arpeggio bei dem der 15. Bund getappt wird, deshalb muss ich da Platz machen.
Takte 2 bis 4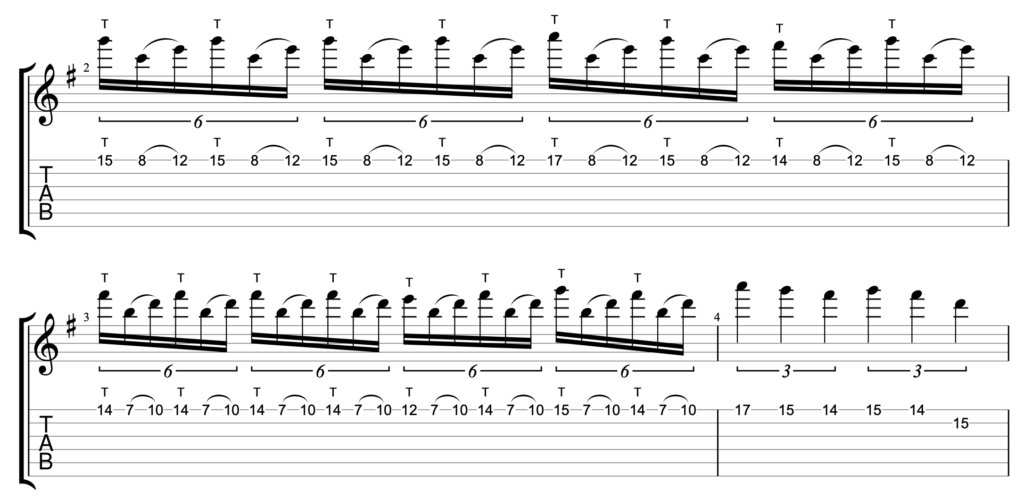 Was soll ich groß sagen? Ich ziehe in Takt zwei und drei den gleichen Stiefel durch.
Die Arpeggios sind C-Dur und H-Moll. In Takt vier beende ich die Phrase mit einem entspannten Viertel-Triolen-Lauf.
Takte 5 bis 8

So ein cooles Thema muss ich einfach wiederholen. Deshalb auch nix neues in Takt 5 bis 7.
Der Triolenlauf in Takt 8 hat ein paar andere Töne, but that's it.
Takte 9 bis 12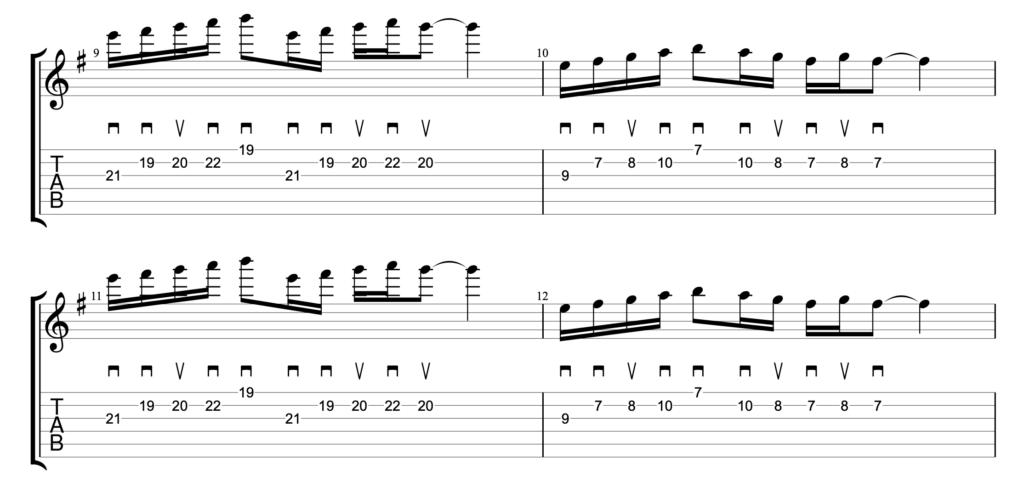 Jetzt wird es wieder etwas spannender.
Die folgenden Takte könnte man als "call and response" zusammenfassen:
In Takt 9 rufe ich (call) und antworte in Takt 10 eine Oktave höher (response) mit einem ähnlichen Motiv.
Das wiederhole ich in Takt 11 und schließe mit einer leicht veränderten Phrase in Takt 12 ab.
Takte 13 bis 16
Der letzte Teil ist jetzt nix für Introvertierte: hier müsst ihr mal aus euch rausgehen, wie Attila Dorn von Powerwolf sagen würde.
Ein kleiner Shredding-Part in E-Moll. Das Interessante daran ist, dass wir den Lauf durch Gruppierungen von jeweils 6 Noten etwas auflockern.
Das führt zu Akzentverschiebungen und ist gut gegen die Tonleiter-Langeweile.
Da unser Grundtempo mit knapp 160 BPM schon recht sportlich ist, brauchen wir für diesen Part eine solide Pickingtechnik.
Ich habe hier versucht mit Economy Picking zu arbeiten.
Economy Picking ist eine Mischung aus Alternate und Sweep Picking.
Ihr pickt erstmal Alternate, behaltet aber bei einem Saitenwechsel die Anschlagsrichtung bei, wenn die Richtung des
Saitenwechsels gleich der Pickingrichtung vor dem Wechsel ist.
Viel Spaß beim Zocken!
Full Track
GuitarPro
Download GuitarPro Datei Into the Darkness
Ihr habt noch kein GuitarPro?
Ich würde mich freuen, wenn ihr es über den Amazon oder Thomann-Affiliate-Link kaufen würdet:
Guitar pro Version 8 (Amazon Affiliate)
Guitar Pro Version 8 (Thomann Affiliate)
Nächste Lektion